Skip to Main Content
It looks like you're using Internet Explorer 11 or older. This website works best with modern browsers such as the latest versions of Chrome, Firefox, Safari, and Edge. If you continue with this browser, you may see unexpected results.
The library has a wide selection of books that document the making and history of artist books, while the NIVAL collection of Artists Books is comprised of more than 1000 titles by artists born in Ireland and by non-Irish artists living and/or working in Ireland. The works are made by individual artists, groups of collaborating artists, or artist and writer partnerships.
As Riva Castleman writes of the artists' book:
"The difference between 'illustrated books' and 'artists' books' is what makes them modern: the artist augments the text with images that do not necessarily define passages in the text. In this way, the reader-viewer may form personal responses to the images as well as to the text, thus broadening the experience of the book.… The intention of the illustrator is to clarify the text, while the intention of the artist is to create Images that extend and/or enhance the text." from 'A Century of Artists' Books'
You can find her book 'A Century of Artists' Books' in our library collection along with many other titles that help define and explore the elusive object that is the Artist's Book.
---
A Book on Books by Victor Cheung
A Century of Artists' Books by Riva Castleman
---
Artist/Author: Contemporary Artists' Books by Cornelia Lauf
---
Artists Books by Stephen Bury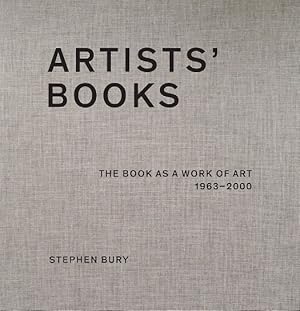 ---
Creating Artists Books by Sara Bodman
---
The Cutting Edge of Reading: Artists' Books by Renée Riese Hubert
---
Artists' Books: A Critical Anthology and Sourcebook by Joan Lyons
---
Artists' Books: A Critical Survey of the Literature by Stefan Klima